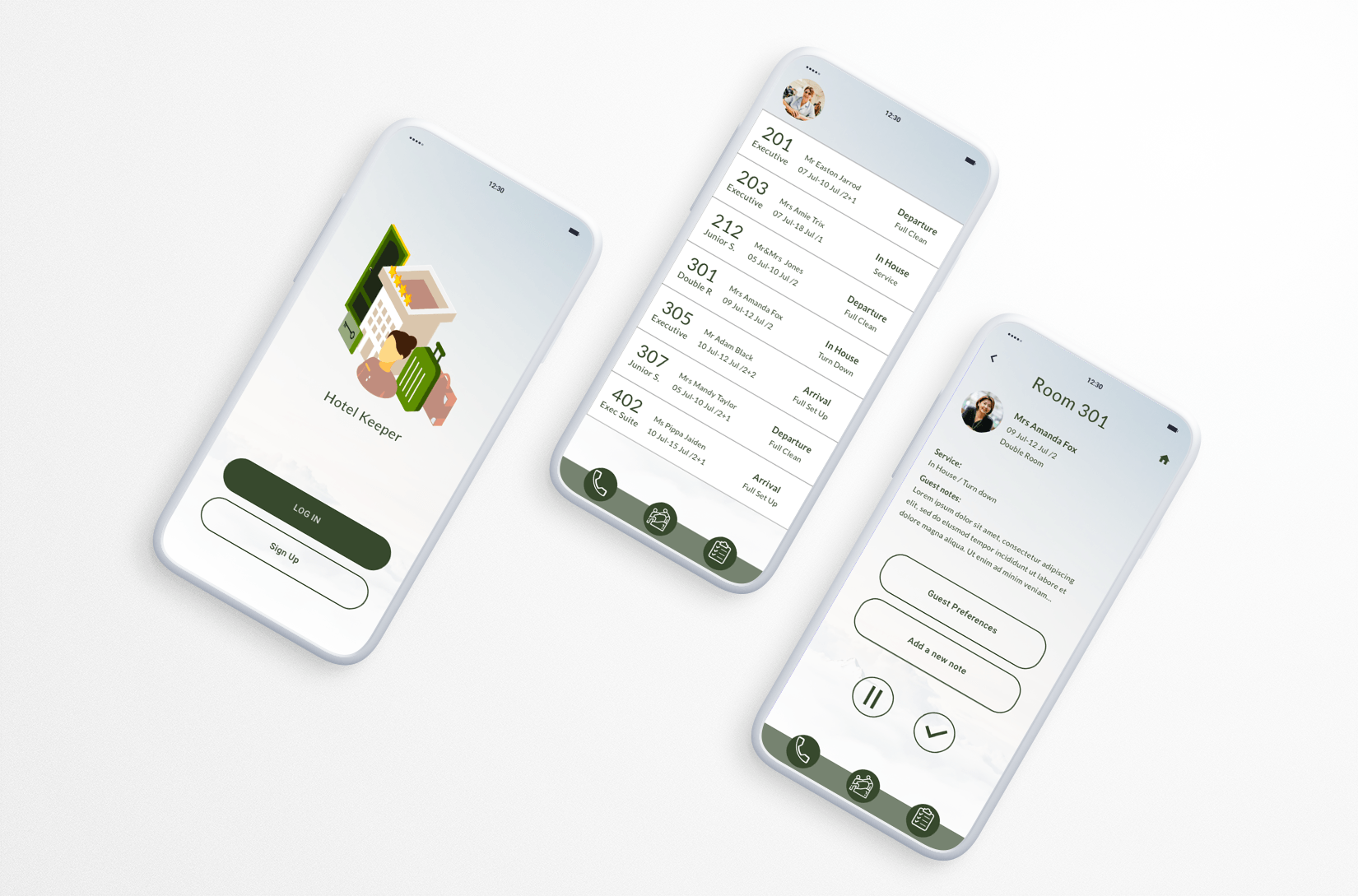 UX Design / UI Design / Mobile
Tools:

Pen and paper, Sketch, Marvel                 

​​​
UX methods:
 Research, user interviews, flow and feature prioritisation workshop, testing
Idea:
High-end establishments of the hotel industry are not only luxurious and glamorous, they are engaging and create bespoke personalised experiences to all of their guests. In such customer-driven environment, employees play a vital role to guest experience and are the sole ambassadors of the brand. One slip up could be the difference between a happy guest and an irritated one.
Having worked in the hospitality for 10 years, I had a good opportunity to see how much work and energy goes to create such special moments to each guest, how many employees each day and night and weekend work hard and with dedication to create welcoming atmosphere, to make guests feel like at home.
The saying "take care of your employees and they will take care of your customers" is truer in hotel industry more than any where else.
Brief:
 To create a mobile application prototype for Hotel's housekeeping department to administer changing priorities, keep track on progress, allow effective communication and provide instant feedback.
The focus of this project was to create a mobile application interface for room attendants. The case study was done in a boutique 5* Hotel in London.


Housekeeping is at the heart of every hotel and it is only when something goes wrong that is is 

recognised

 - just like our hearts.
Back of House:

However this department faces a lot of issues associated with communication problems amongst team members and other departments as well as constantly changing priorities which lead not only to blame games, open rivalry but influences business reputation and bottom line results.
​​​​​​​

I looked at a wide spectrum of available Hotel operations management software: from the ones offering overall  solutions to the management of Hotel operations and covering most of the departments and to the smaller ones offering only housekeeping solutions to hotels.

I have identified the below strengths and weakness (opportunities) in the market.
Extensive task list / Prioritisation of jobs / 
Estimates cleaning times / 
Multilingual / 
Inventory tracking / 'Lost and found' with photos

​​​​​​​
One way communication / Limited functionality / No mobile option / Complex/dated UI look and feel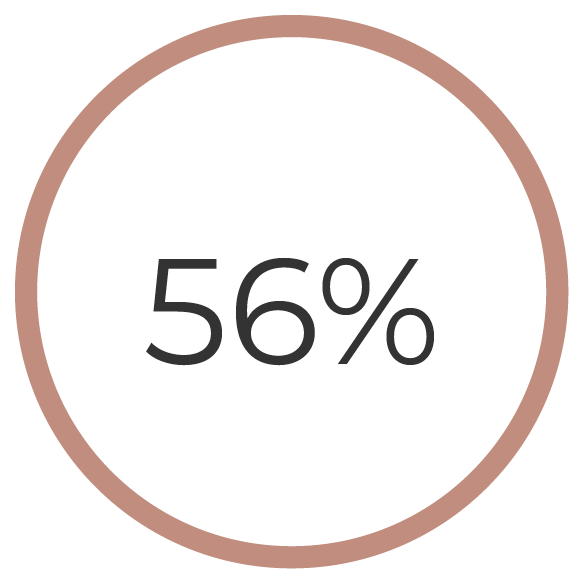 Only 56 % providers in the market offer mobile solutions for the work that is done, and often managed, while on the go in the maze of hotel corridors as opposed to sitting in the office.
Key findings can be divided in the following three groups: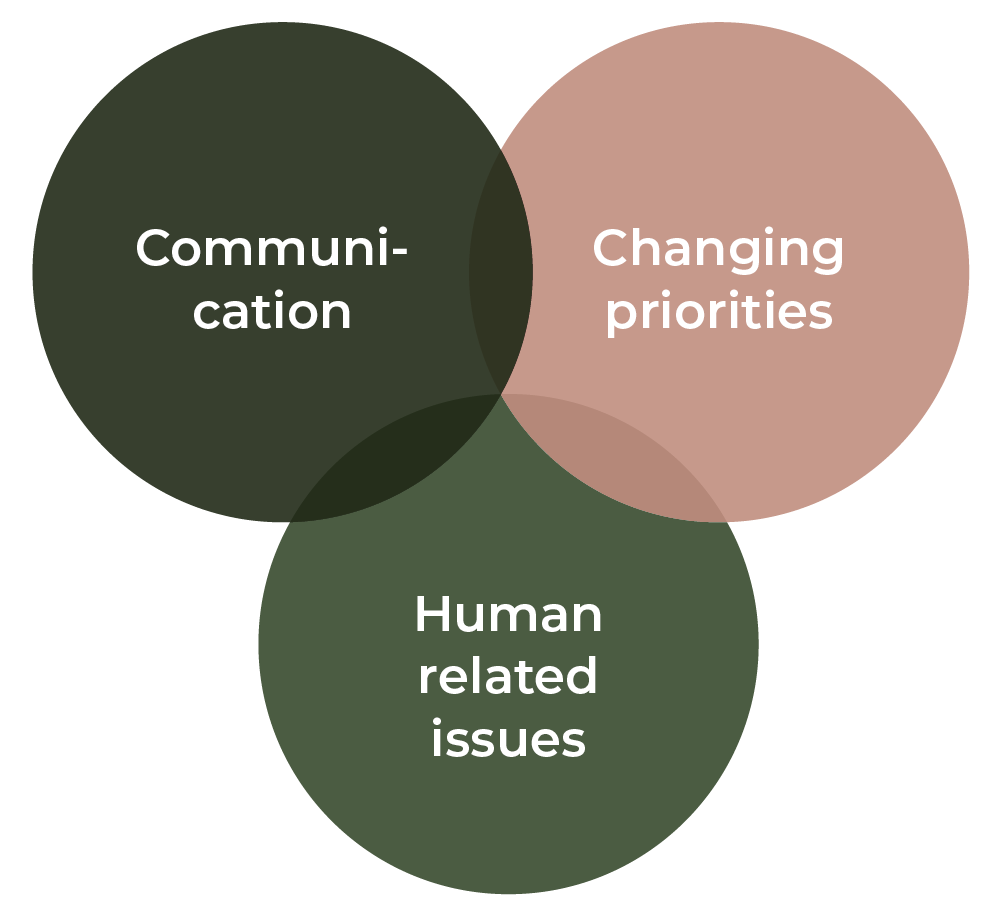 Communication:
 all requests are passed verbally through coordinator; information being lost in long communication line; need easy and efficient channels to communicate; instructions should be clear/explaining each step.
Changing priorities:
constantly changing priorities are kept on paper list rather than in the system with live updates; room attendants feel lost when priorities are not clear/supervisors unavailable; need to keep track whether requests passed to other departments are done and on a timely manner.
Human Related Issues:
has to deal with negative emotions when can't reach other team members or supervisors; room attendants want to be acknowledged; it is hard to make floor staff do something extra; new starters forget things.
Persona:
 Although overall project would address needs of both management and room attendant as well as integration with other departments, this sprint had aimed to design a mobile interface prototype based only on room attendant's perspective.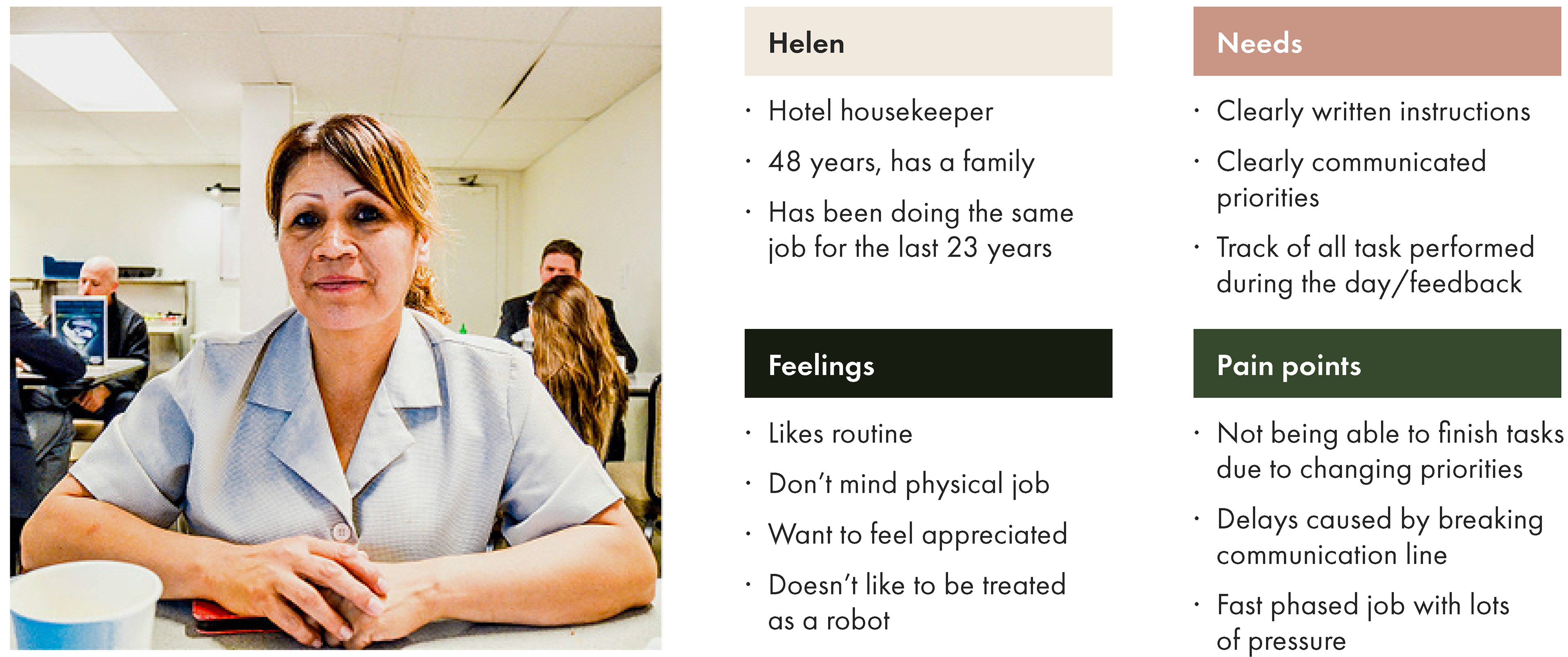 "It is a very lonely job. I hardly ever see anyone and the only communication I receive is the supervisor rushing me around from one task to another without finishing anything. After days like this, you feel lost and don't have the sense of achievement." 
Helen, Hotel housekeeper

Key requirements:
Based on the market research, qualitative interviews and persona's needs I will aim to create a tool for Helen which will:

This will improve the speed and workflow, decrease mistakes and will provide housekeepers, like Helen, with the tool to keep track of their achievements.

The day in action:
 During extra interviews with the Head Housekeeper, department coordinator and room attendants, we have identified
seven tasks (goals) 
housekeepers need to achieve throughout the day when cleaning/servising rooms.
The below diagram (
user flow
) follows Helen through the journey of her usual day, showing all tasks she performs throughout the day and situations she might face.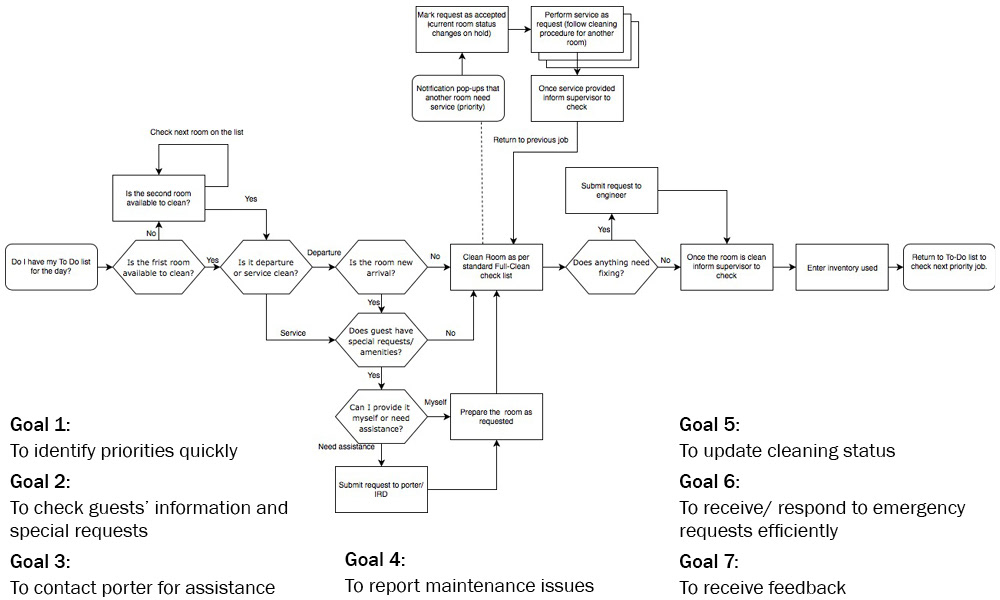 Feature Prioritisation:

 From the above user flow it is clear that room attendants perform multiple different tasks at the same time, have to communicate with different departments and keep track of all requests they make. However I wanted to know which features would be the most beneficial and are the top priorities for both the Hotel management and the end user - housekeepers.
The results of the card sorting session on feature prioritisation are below.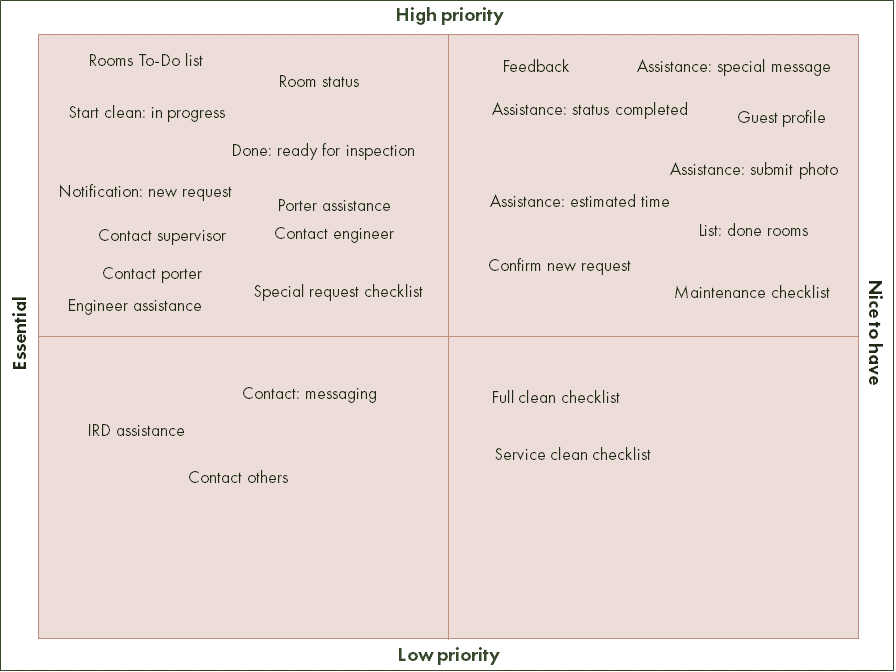 Site Map:
 In the same session, I have also asked users and business representatives to help sort out app features into groups that would make most sense to them. They have identified three main groups:
Communication / Rooms Management / User feedback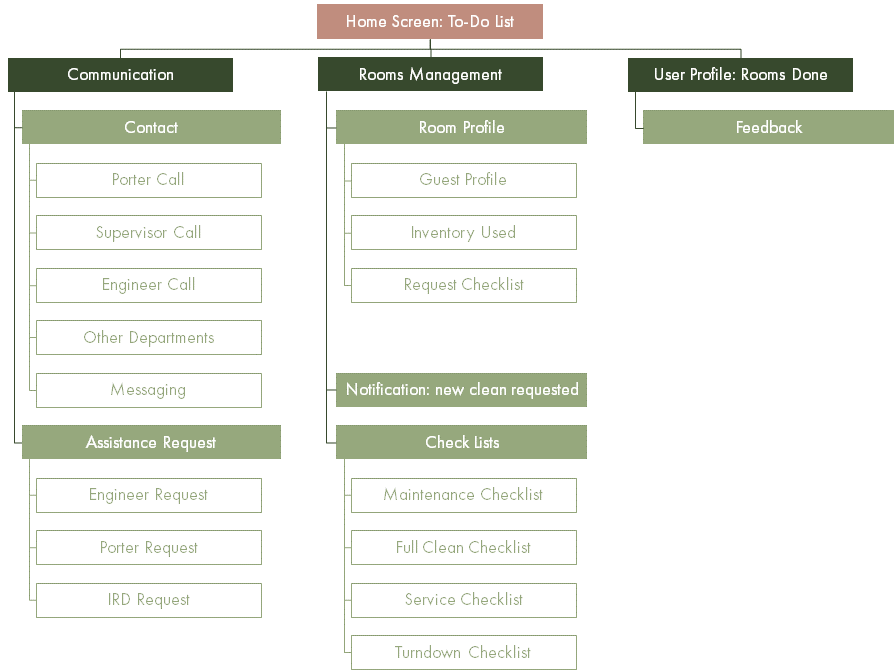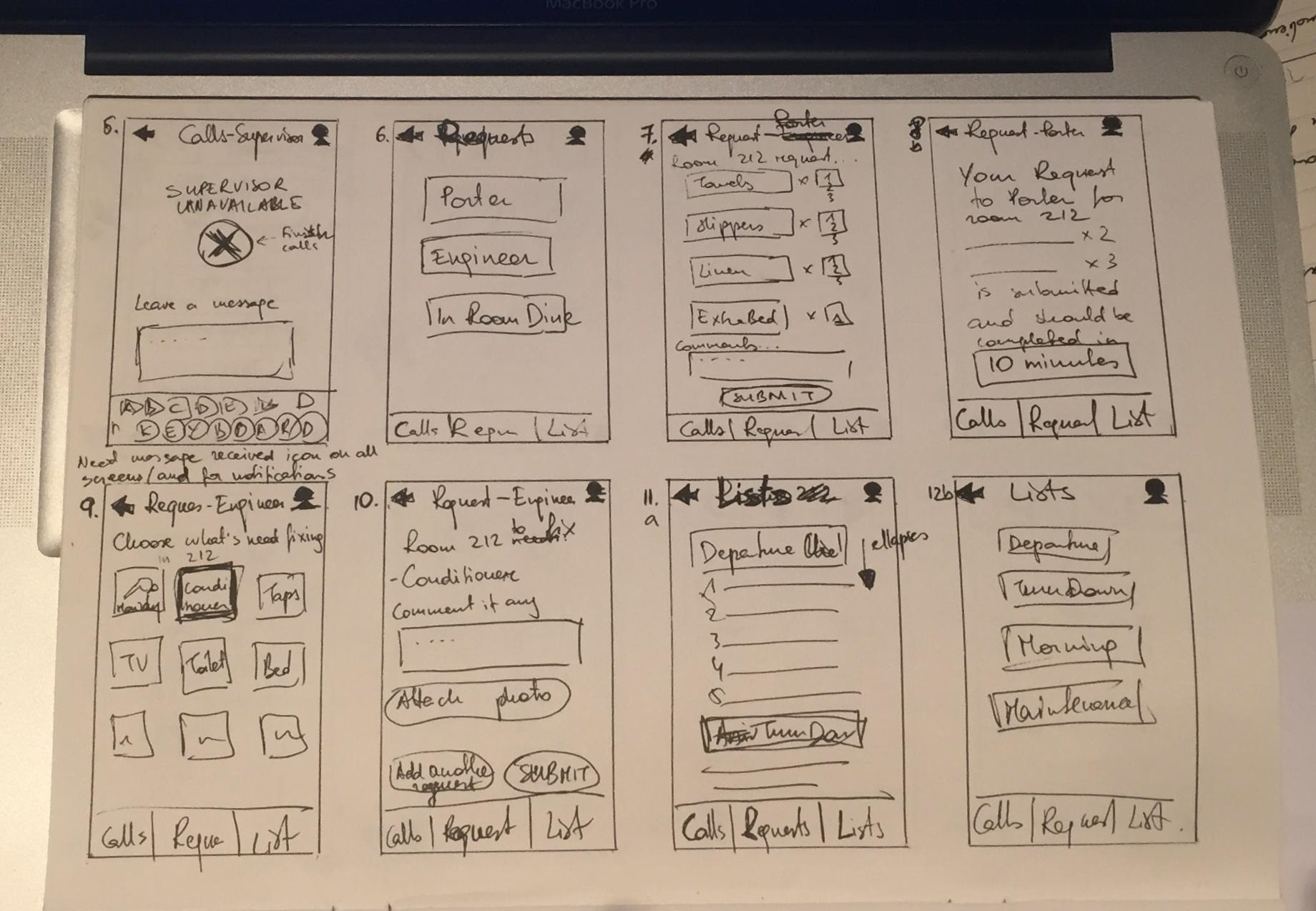 User Testing and Feedback:

​​​​​​​ 
Moving from paper prototypes through to hi-fi Sketch wireframes, I conducted another round of testing with Hotel Housekeepers and departments coordinator. They were asked to test the main user flow as per below example and to perform extra tasks like request help from engineering department, contact supervisor and check their progress throughout the day.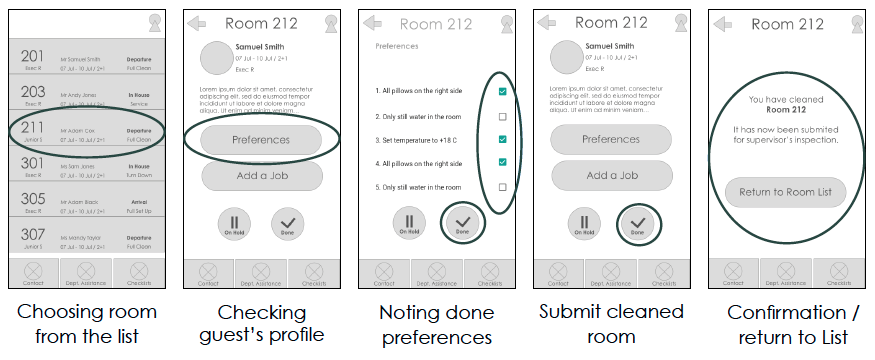 C

lickable buttons are intuitive; 
Smooth flow directing towards destination; 
Users understood button functions

.
"So easy to complete tasks!"
"It's intuitive to navigate and complete tasks."
'Back' button was overused (1).
Users didn't find necessary to have access to their profile (2) from all screens - instead they missed home button.
Not all major tasks finished with notification that it is successfully completed - users  wanted to see it more often and found it helpful(3).
On few screens buttons to complete the task were missing (4).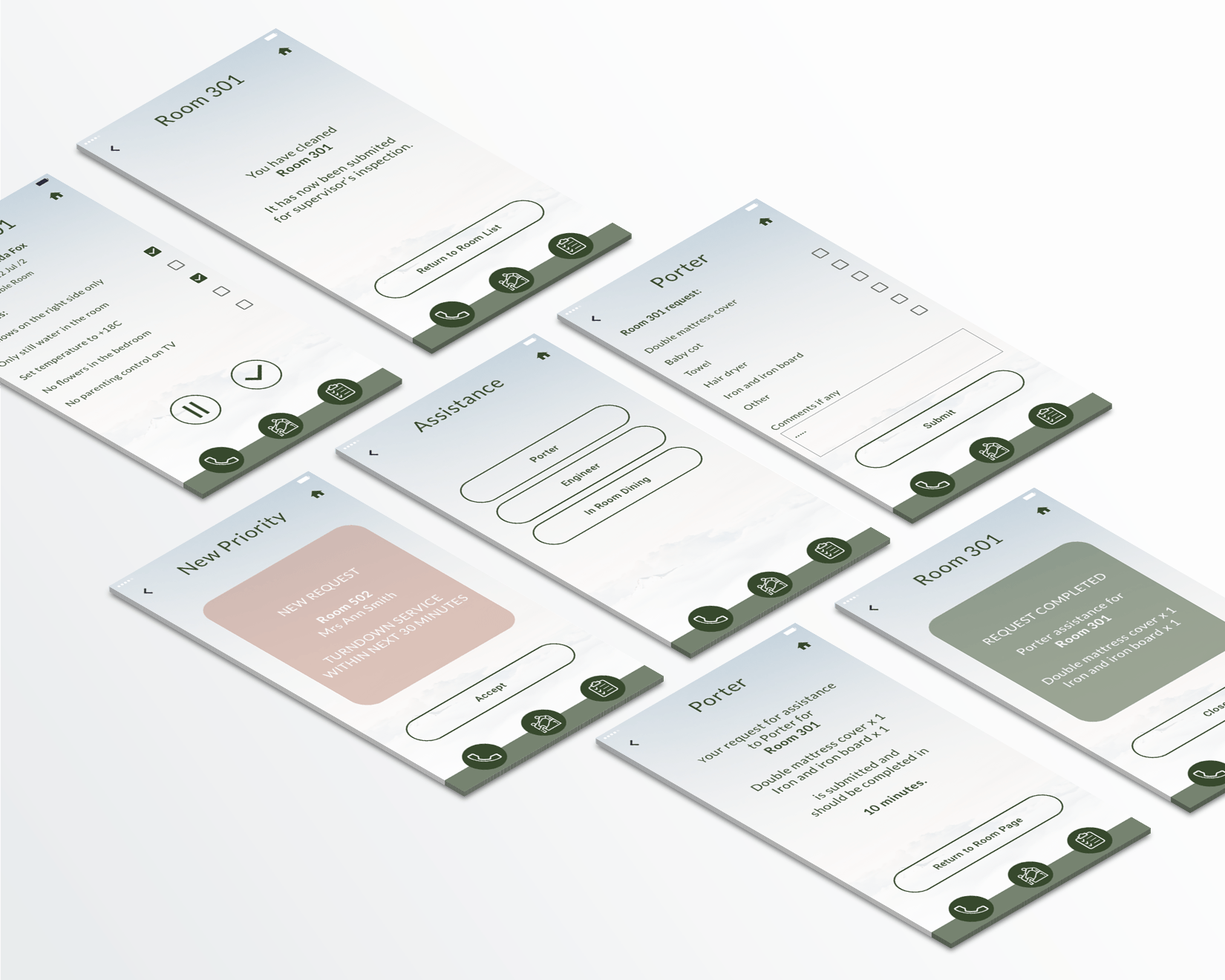 More usability testing and modify UI/UX.
Extra functionality
like inventory management, guests feedback on cleanliness and service.
Integration with main Hotel PMS
.
Desktop and mobile
version for supervisor roles
.
Mobile version for porters, maintenance and in room dining/ full integration with existing systems.